9 best hair straightener brushes for everyday styling
Hannah Paine | March 14, 2023 – 10:28AM
The ghd hair tool sold out almost immediately when it first launched in 2019 — find out why we're "obsessed" with how easy it is to use.
These products are hand-picked by our team to help make shopping easier. We may receive payments from third parties for sharing this content and when you purchase through links in this article.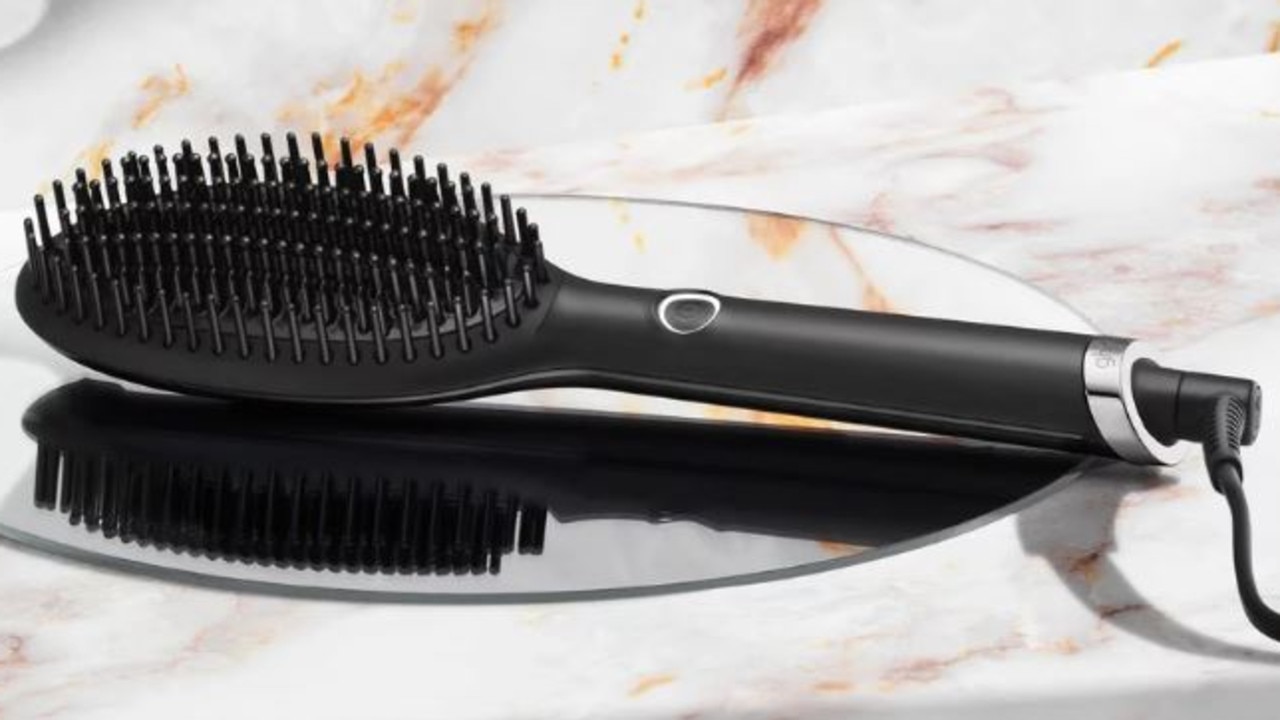 For years, hair straighteners have been the heat-styling tool of choice to achieve sleek straight hair.
But as big, bouncy hair makes a comeback (think 90s supermodel hair) your at-home styling repertoire doesn't have to be limited to a traditional hair straightener with two plates.
Well-known brands like GHD, Vs Sassoon and Remington have all brought out hair straightener brushes, while Amazon Australia and Shaver Shop have great affordable options.
Hair straightener brushes can be a great alternative if you want to smooth out your hair while adding a bit of body — read on for our round up of the best ones available, as well as expert advice on how to style your hair with one of them.
WHAT'S THE DIFFERENCE BETWEEN A HAIR STRAIGHTENING BRUSH AND A TRADITIONAL STRAIGHTENER?
According to Sydney hair stylist Anthony Nader, creative director of Raw Hair by Anthony Nader, the difference between the two hair heat tools is "night and day".
"A hair straightening brush is also electrical, but it generates enough heat and power to smooth over hair strands with the bristles of the brush," he told news.com.au.
"Think of this method as brushing your hair in sections and bevelling your brush in the direction you want to shape it."
"A traditional hair straightener flat irons the hair to be sleek and smooth," adds hair stylist and Joico global artistic director Richard Mannah.
"A hair straightening brush is a brush, and therefore it can smooth the hair and give volume — different outcomes."
In contrast a traditional straightener has "plates that you glide hair through".
"The benefit of the plates is that you can iron out any unwanted textures in a flash with one or two goes, and you have your new surface," Anthony said.
"The plates also give you the versatility of creating waves/curls or poker straight."
EDITOR'S PICK: BEST HAIR STRAIGHTENER BRUSH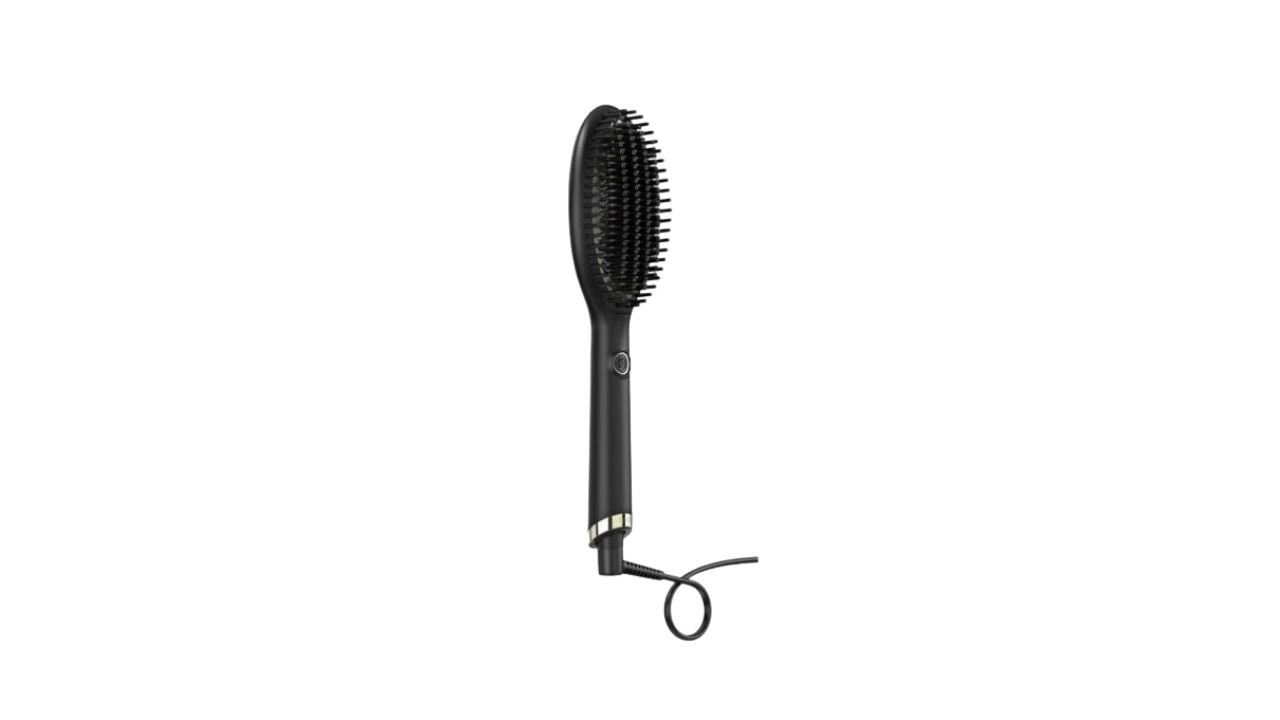 I am a girl who loves my 12 step skincare routine, religiously wears my LED mask four times a week and will take my sweet time applying makeup.
But when it comes to my hair I'm somewhat more lazy. While I like using a blow-dry brush or the Dyson Airwrap, I can't muster up the energy to style my hair as often as I should and I often don't leave myself enough time to do my hair before going out.
Faced with this very pressing (and definitely first world) problem I decided to give the ghd glide brush (mine is in the limited edition champagne gold and comes with a red velvet case — fancy!) a whirl. First released in 2019 it was so popular it sold out almost immediately. The heated brush offers an alternative to the poker straight hair you get with a straightener hot iron.
Using the glide for the first time I'm struck by how simple it is to use. It takes just 30 seconds to heat to 185C (ghd's signature heat setting for all its tools that won't damage hair while styling hair perfectly) and the power button's light will stop flashing when it's ready for use.
I have fine, naturally straight hair so I can use it just like a regular hairbrush if I want a quick tidy up, or I separate my hair and use the glide in sections for a more straightened look.
When doing any heat styling it's important to use a heat protector — I like using ghd bodyguard ($38, THE ICONIC) to give my hair a spritz before using the glide.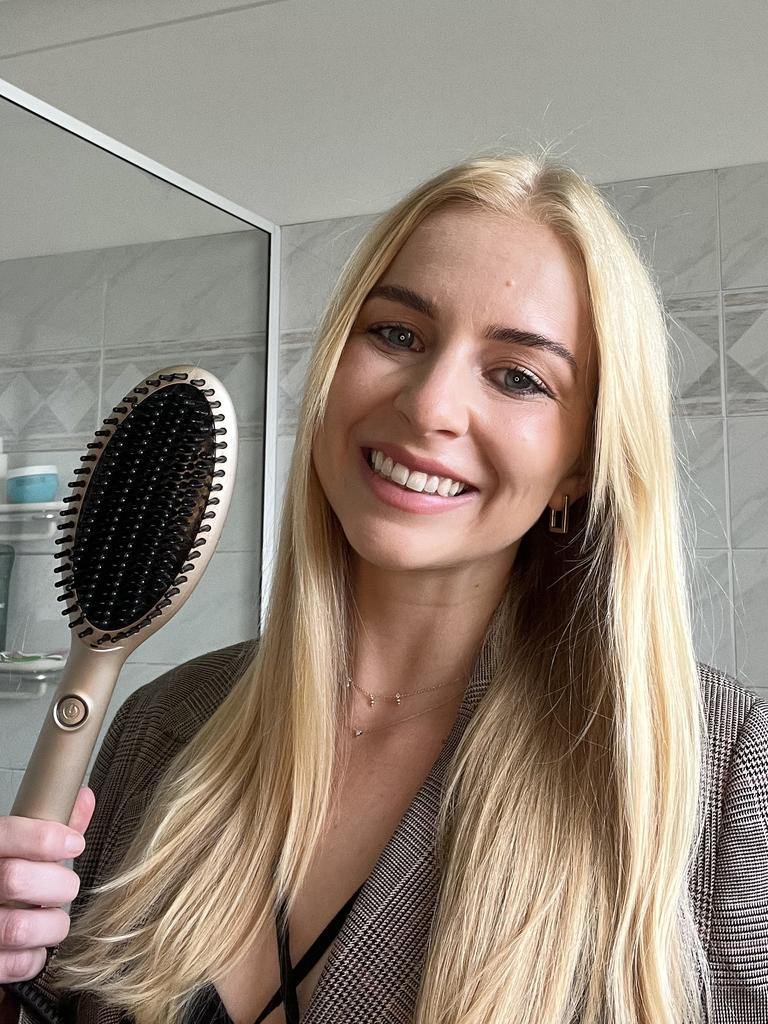 The ghd glide gives my hair a blow-dry-like finish in just five minutes flat. Picture: Hannah Paine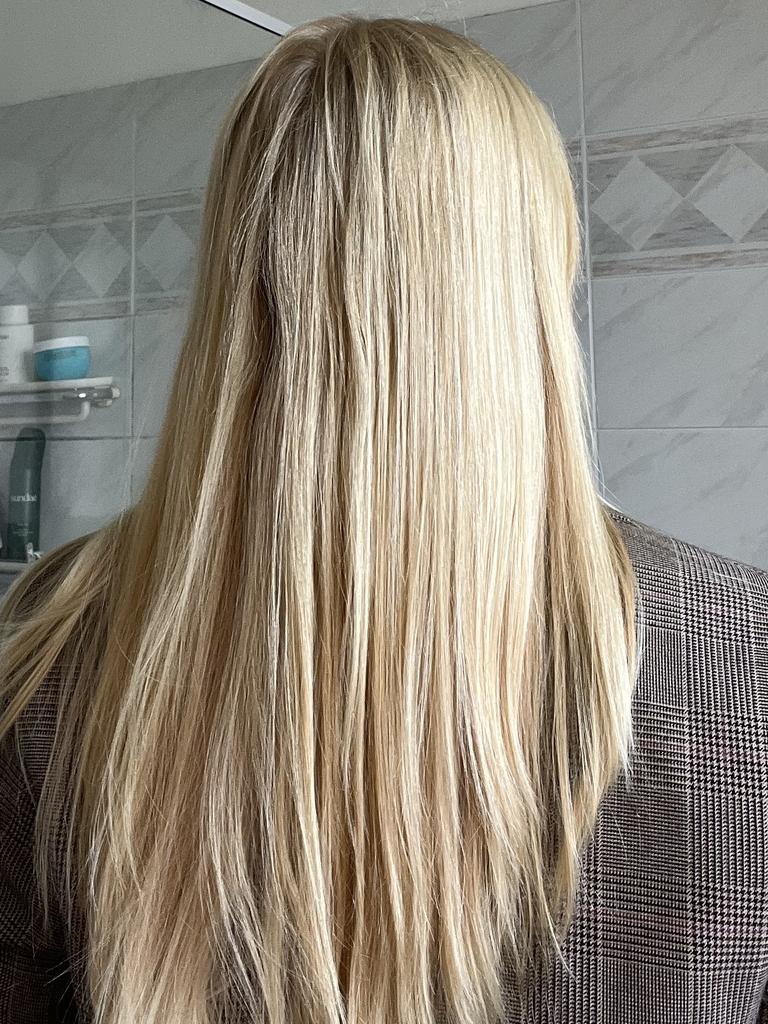 It straightens hair easily while still keeping body. Picture: Hannah Paine
How to use: It's super versatile — you can easily run it over your hair to quickly smoothen frizz and flyaways in under a minute. My favourite way to use the glide is to separate my hair into four sections and run the brush though small sections, flicking the brush upwards as I reach the ends.
After I've straightened all the sections I like to turn my head upside down and run the glide brush underneath. I find this gives my hair a bit of volume and more of a blow-dry, rather than a straightened look. All of this takes five minutes flat, making it the most low maintenance hair tool on the market.
Pros: Have I mentioned how quick and easy it is to use? The glide heats up quickly, is super light to hold and with a heat of just 185C it doesn't damage your hair.
Cons: It's important to note that the glide may not suit all hair types or give you a poker straight look. Best Of technology writer Lauren Chaplin found the glide wasn't suitable for styling her "naturally thin, wavy-to-curly hair",
"The bristles are fairly spaced out, which meant my strands often slipped through them without getting the full benefits of the tool," she said.
"While it did work to straighten the majority of my hair, it definitely didn't deliver the same results as a straightener. I also found that it left my hair much frizzier than a straightener would, which was a definite downside for me."
Verdict: If you want something that offers a lazy girl blowout in five minutes or less, the glide is a great investment. It's also ideal if you already have fine or straight hair already and want a polished look that doesn't leave your hair as flat as traditional straighteners. I'm obsessed with mine and use it almost daily to either smooth my flyaways or style my hair before going out.
BEST HAIR STRAIGHTENER BRUSHES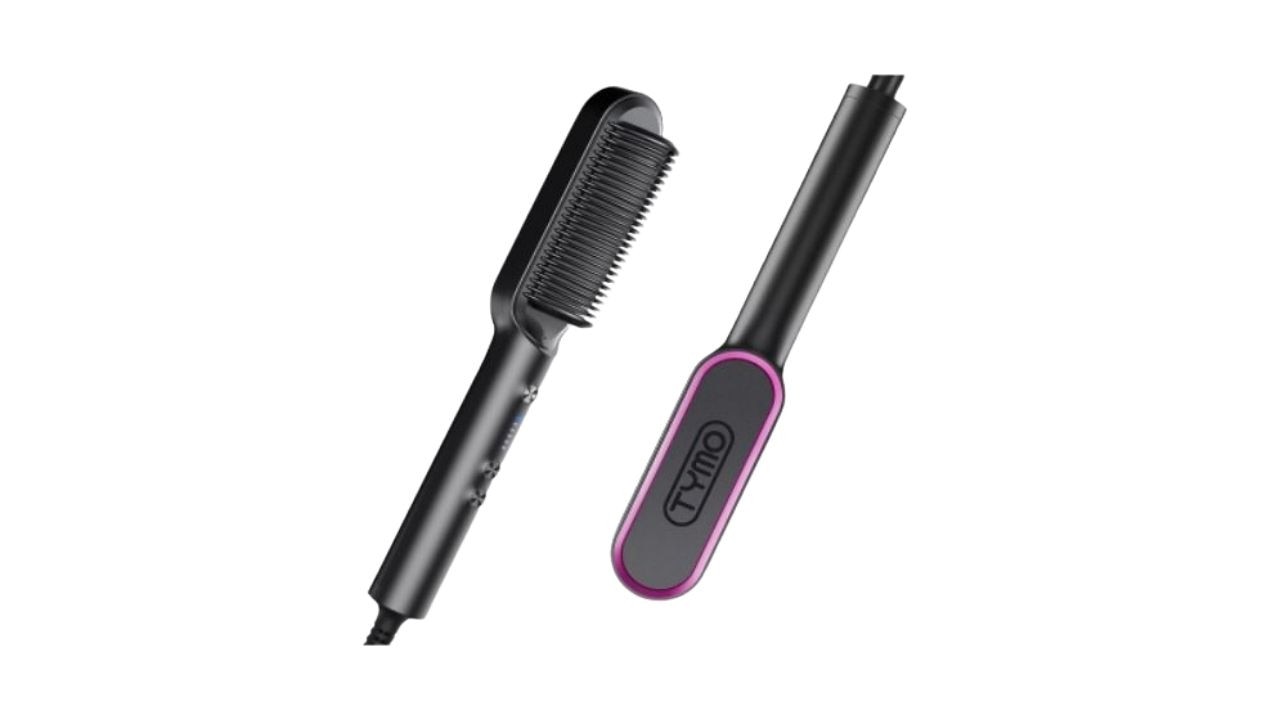 With over 26,000 five star reviews, this hair straightener comes highly recommended by shoppers. Priced well under $100 the brush heats up in just 30 seconds and has five temperature settings from 130°C to 210°C. The ceramic coated brush has an anti-burning shell and promises to straighten hair in just three minutes. Five-star reviewers rave about the brush, claiming it "beats my GHD hands down" and is "not as harsh on my hair as my straightener". "Couldn't ask for better value and quality! The results of my hair after the minuscule amount of time it takes to straighten with the TYMO are amazing," one five-star review reads.
VS Sassoon Mini Straightening Brush VS11PA
This is the most affordable hair straightening brush on this list and is a great option if you want something to use on the go. The corded brush has three heat settings (180C, 190C and 200C) and uses a combination of silicone bristles that both straighten and detangle hair. The ceramic brush offers ionic conditioning that won't frizz hair while it straightens, with reviewers saying it "works well" for a travel-sized straightener.
Hot Tools Black Gold Volumiser Set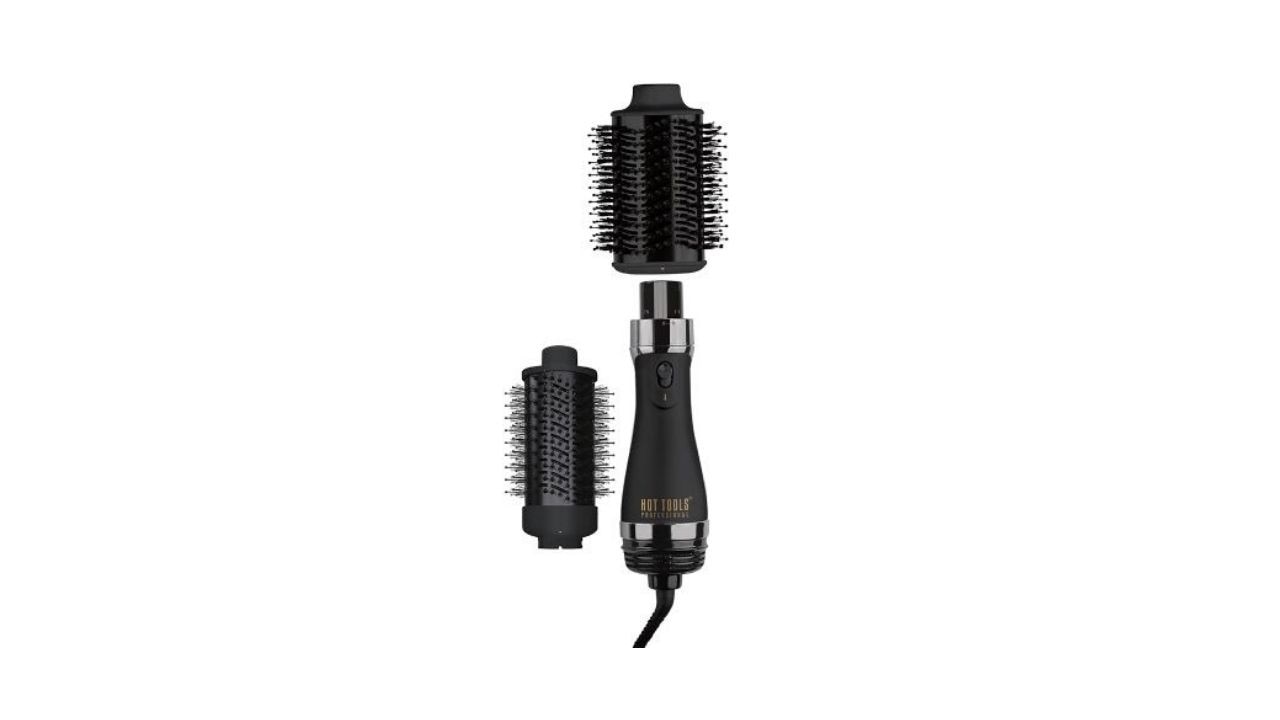 This brush is best if you're wanting to smooth out hair while adding some bounce and volume. "I find that the brush is a little like using velvet coated hot rollers in the way that the end effect is that gorgeous 70s soft, voluminous wave," says Anthony. The blow dry brush has two detachable oval barrels, one big and one small, so you can style your hair to perfection. Featuring a titanium plate surface for even heat distribution, the Hot Tools brush comes with a three heat and two speed settings with a cool air shot for finishing styles off.
Remington Proluxe Salon Ionic Straightening Hair Brush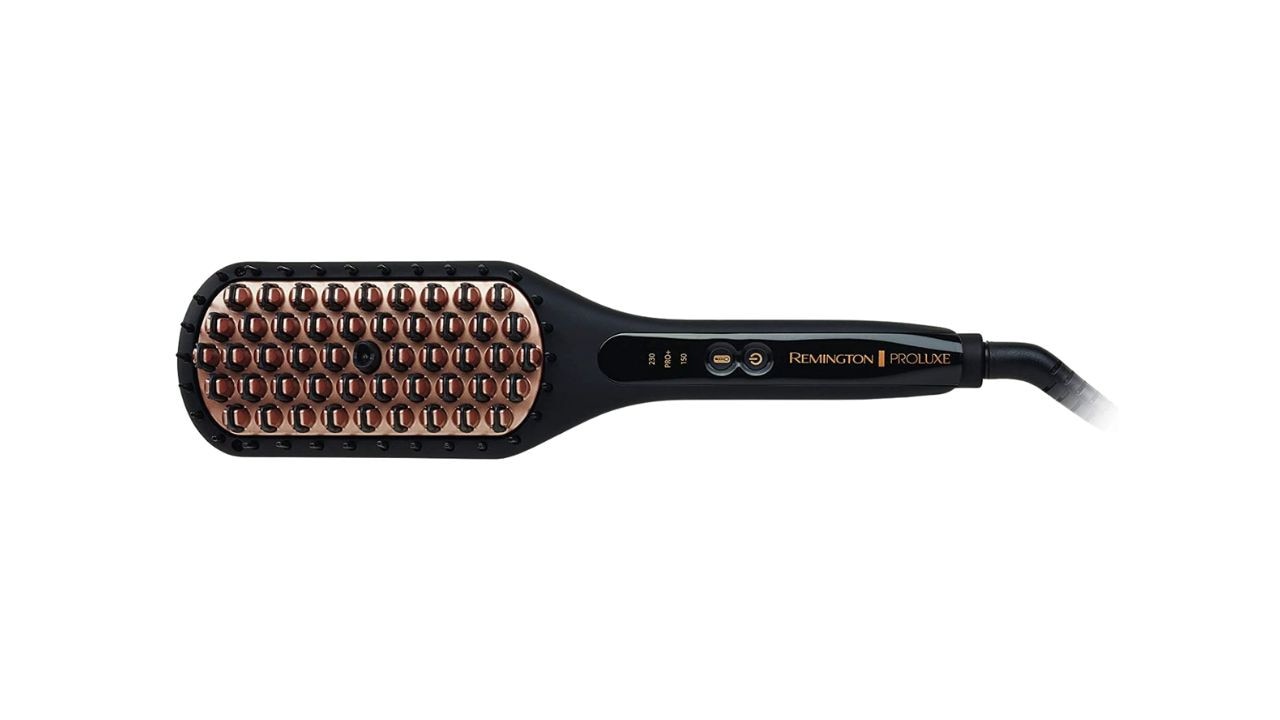 This brush heats up in just 30 seconds with a heat range of 150C to 230C, with an PRO+ setting of 185C for healthy styling. It uses ceramic heated plates with closely positioned bristles for maximum reach when using, while its antistatic ionic technology preventing that all too annoying frizz that can happen when straightening hair.
VS Sassoon Frizz Defense Straightening Brush Mahogany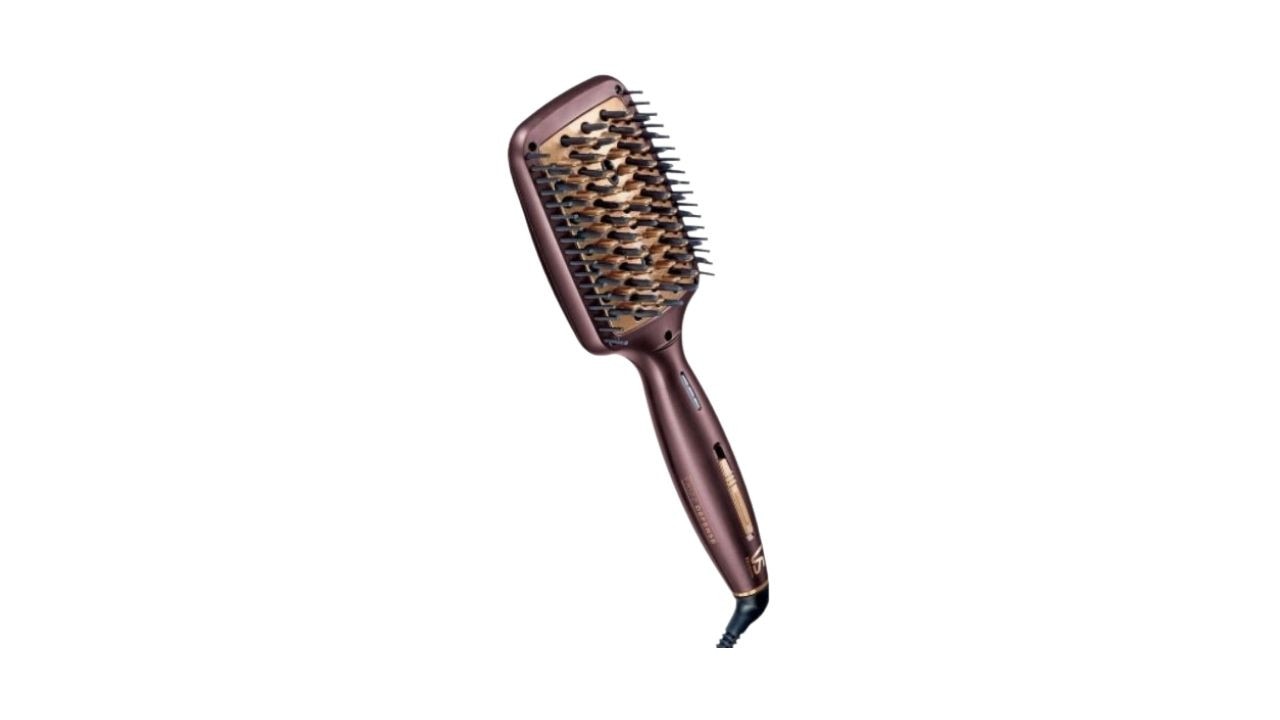 This brush has three heat settings — 180C, 190C and 200C — and uses an advanced triple action 3D straightening system to smooth out hair. It heats up in 30 seconds and uses detangling combs, gentle heat activated silicone bristles and ceramic straightening fins to target frizz and promote shine.
Silver Bullet Hybrid Straightening Brush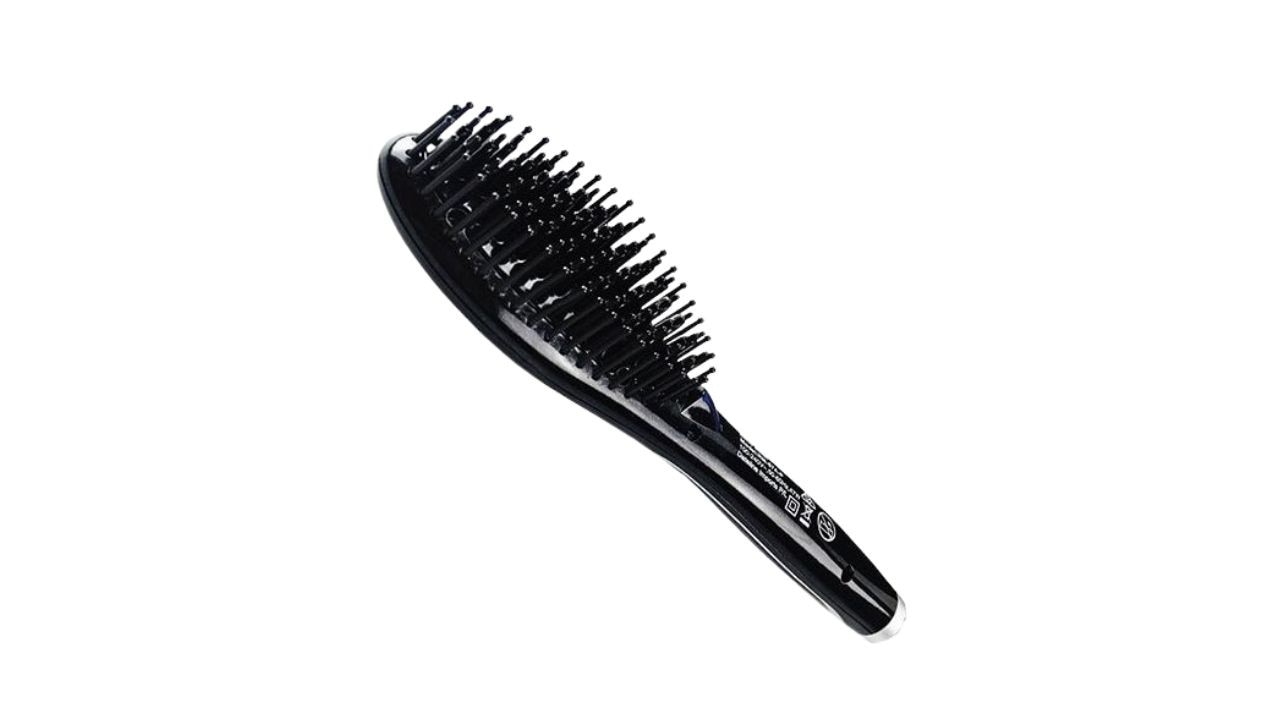 This hair straightener brush uses ionic and ceramic technology to reduce hair frizz and static for a polished finish. The brush uses firm heated bristles with a heat range from 160C to 210C which can be adjusted via the device's LCD digital display. "Super impressed with this brush … it's easy to use, it gives hair a lovely blow-dry like effect without being poker straight," one five star reviewer reads on the Adore Beauty website.
Mermade Hair Blowdry Brush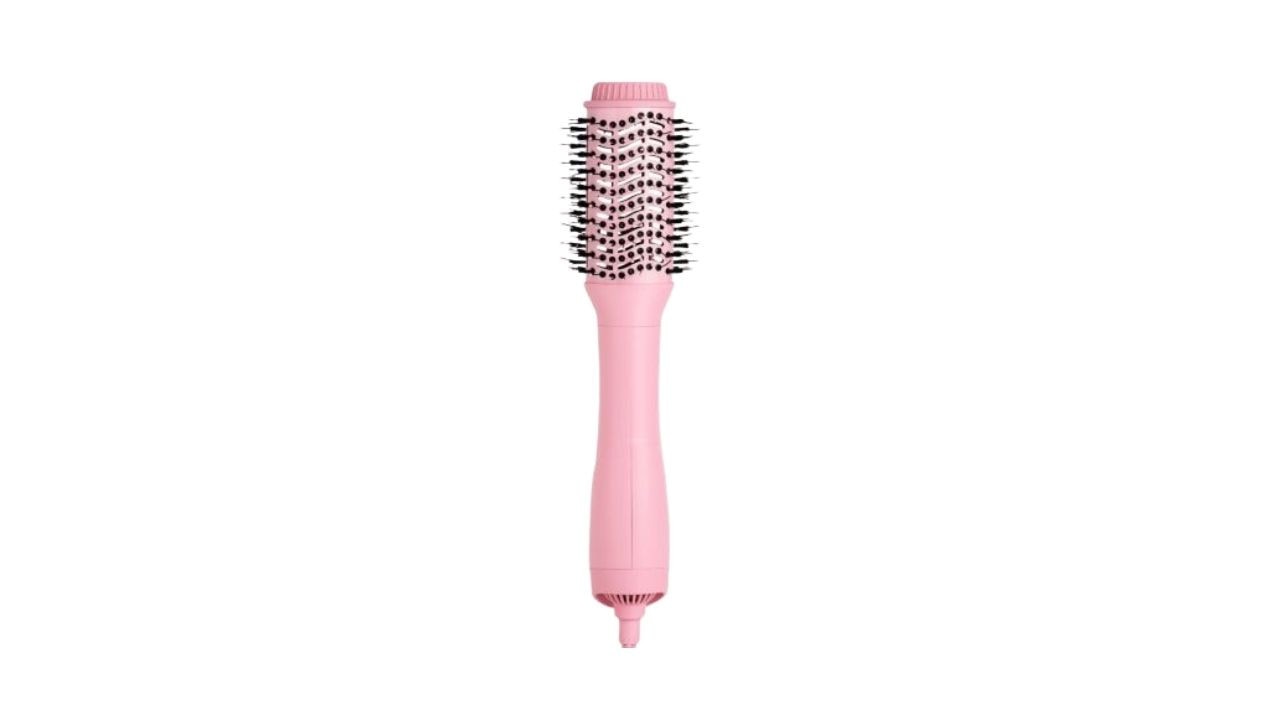 This hair tool by Mermade Hair is one of the most affordable blow dry brushes on the market and has a cult following on Instagram. The oval barrel brush has three heat settings, adding volume and shape while smoothing out hair. It also has flexible bristles for styling that's gentler on the hair.
DAFNI GO Hair Straightening Ceramic Brush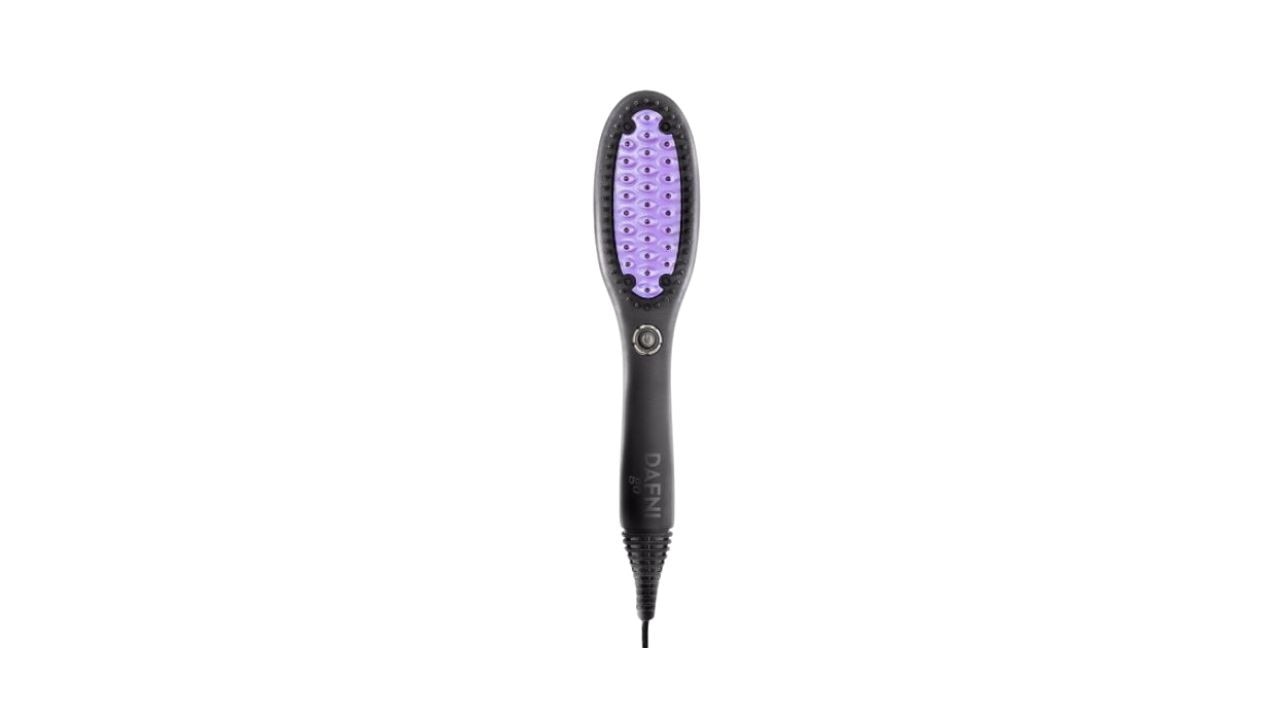 At less than half price, this ceramic straightening brush is an absolute steal. The ceramic brush heats to 185C to straighten your hair in minutes, with shoppers praising the brush for being easy to use. "I have arthritis in my hands and it was light for me to use with brilliant results," one five-star reviewer says. "It comes with a fantastic case to keep it safe and all together when I travel."
Dyson Airwrap Complete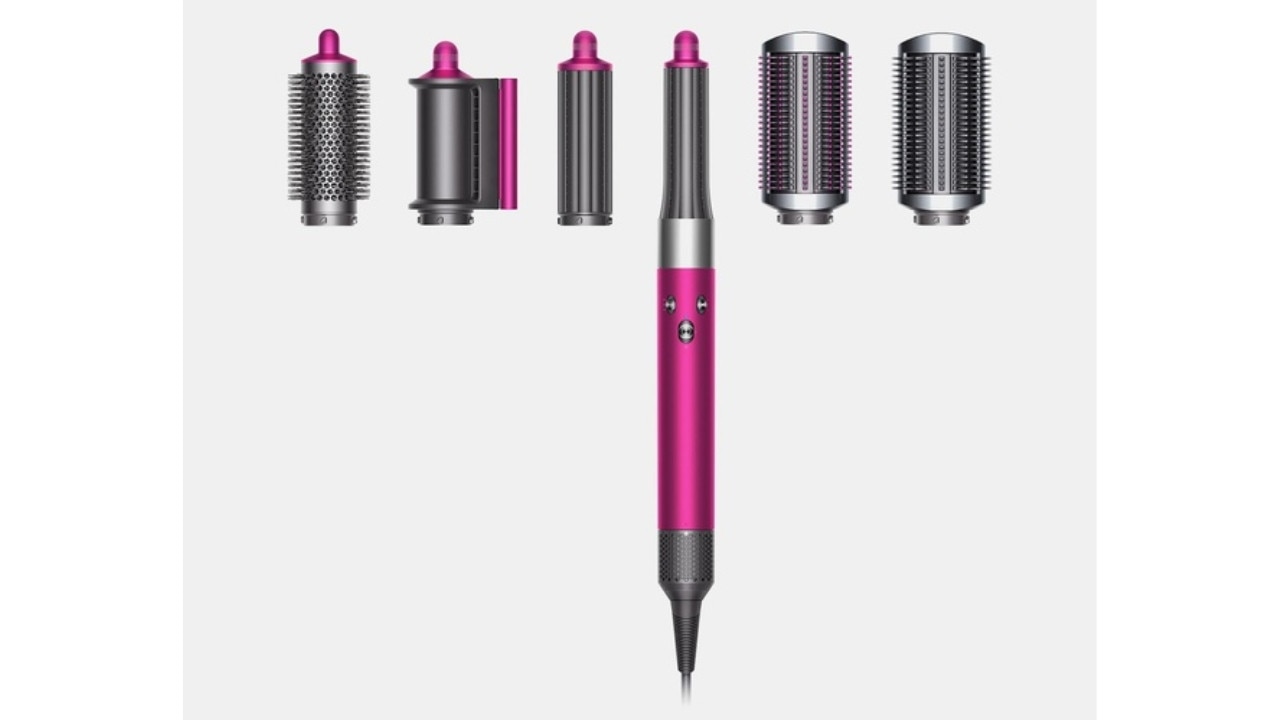 OK we know this isn't a hair straightening brush but I couldn't resist putting this holy grail hair tool on the list. If you still don't know what a Dyson Airwrap is then you must have been living under a rock for the last several years. With six different styling attachments the Airwrap can smooth and straighten your hair without using extreme heat as well as an array of other hairstyles. It's expensive yes, but if you like to style your hair multiple times a week then it's a worthwhile investment in our books.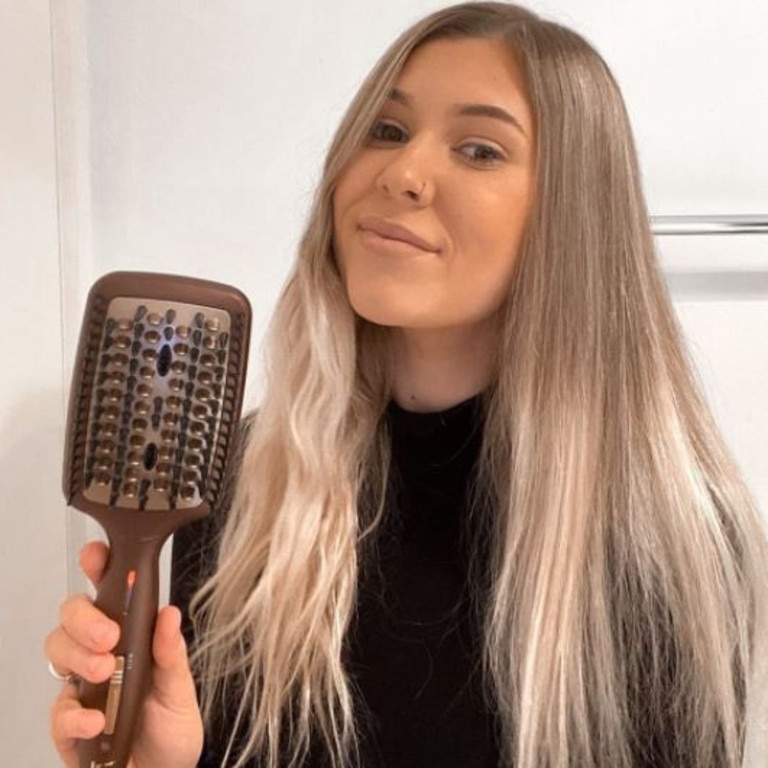 Vs Sassoon's brush targets frizz. Picture: Instagram/@vs_sassoon.
WHEN SHOULD YOU BUY A HAIR STRAIGHTENER BRUSH INSTEAD OF A NORMAL STRAIGHTENER?
A hair straightener brush is a great option for those who want a "more natural finish" when styling their hair, says Anthony. While a "straightener is for someone that needs to tell the hair what to do and behaves due to the plates and the firmness you can push down with them". "A straightening brush is for someone that still wants to embrace their own texture but wants to refine it gently," Anthony said. "Refining and making the hair appear more polished and voluminous without distorting the hair shape completely." Using a hair straightener brush can also help you achieve that professional blow dry look, adds Richard. "When you want that beautiful salon blow-dried finish, it smoothens hair and gives bend and volume too," he said.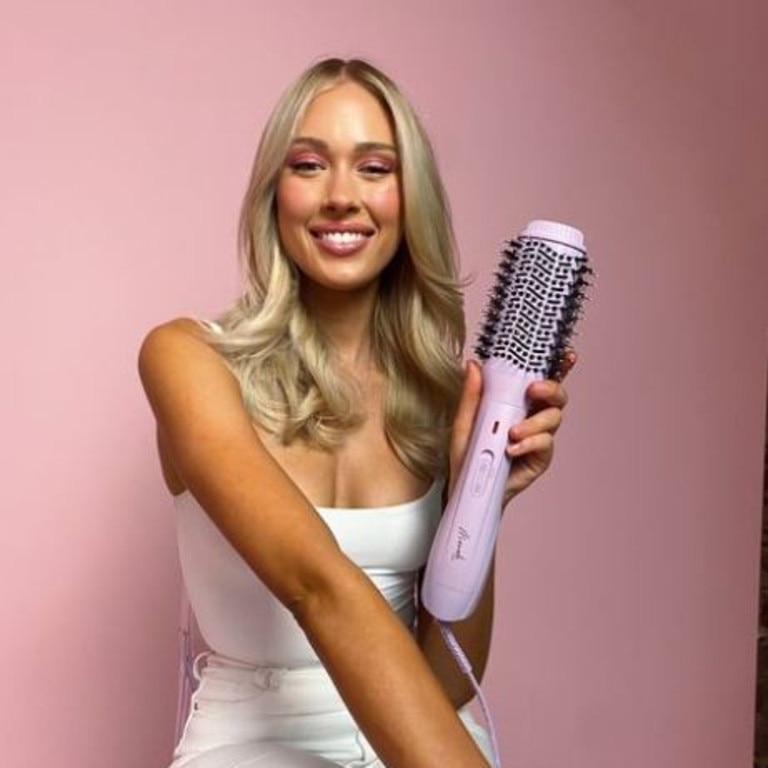 Mermade's brush allows you to also add shape and volume to straightened hair. Picture: Instagram/@mermade.hair.
HOW DO YOU USE A HAIR STRAIGHTENER BRUSH?
The beauty of a hair straightener brush is you can use it to create as much (or as little) volume and shape as you would like, depending on how you use it.
Here's how to use a hair straightener brush to style your hair, according to Anthony:
1. "Apply your product of desire in freshly washed hair and then blast dry at least 80 per cent as this will cut down your time, and mostly … your arms won't get tired," he said.
2. Next, Anthony advises to "divide your hair into four even sections (ear to ear and middle forehead to nape)".
3. After dividing your hair "take a least two-inch sections starting from the nape area and start using your brush and moulding sections of hair into shape", he said.
4. "Take your sections right up to the crown area in the same method, ensuring a beautiful smooth bounce to your hair shape," Anthony said.
5. Style the front section of your hair in the same way, but "if you want more volume around here, lift your brush upward (away from your root area)" to achieve a "wonderful lift", says Anthony.
6. Once finished, Anthony advises to "pop your head over and add a little volume of soft spray on the roots and massage in" before brushing your hair into place.