Heads up: The curly lob is the retro hair trend you're about to see everywhere.
By Charlotte Begg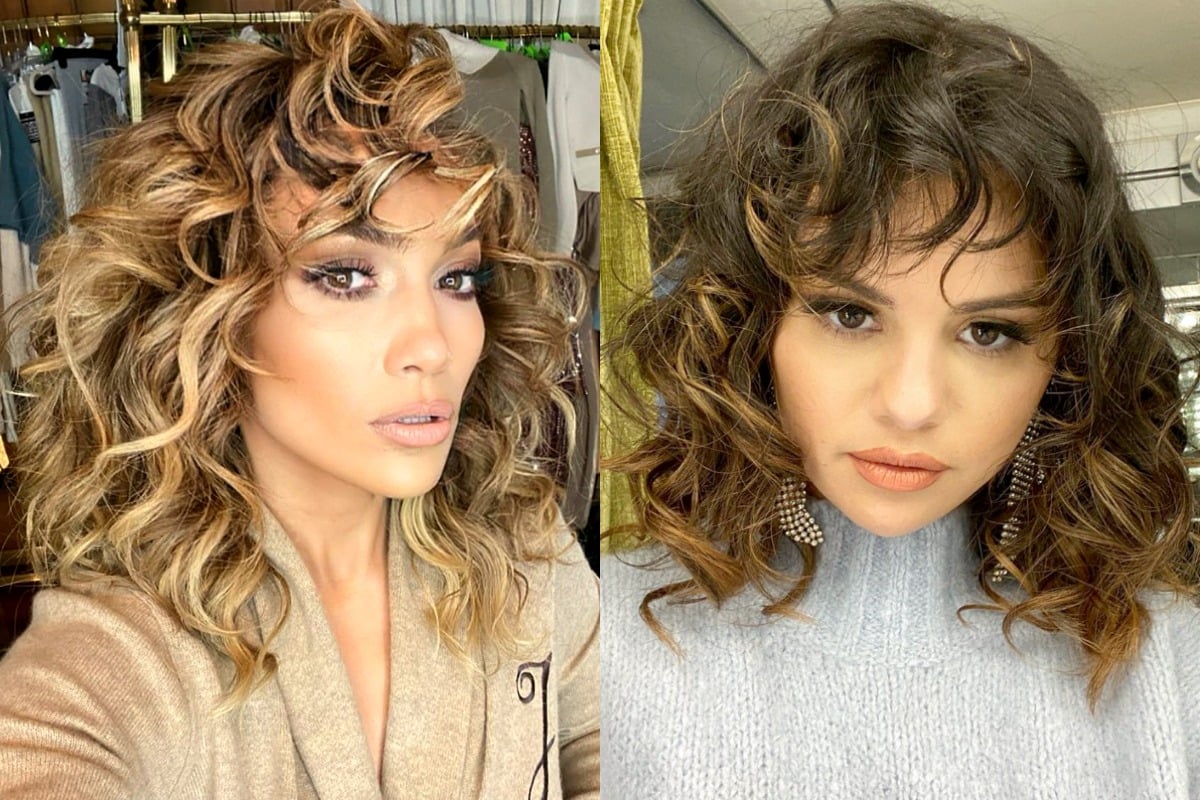 If you've been blessed with curly hair, you'll know that while curls have their benefits (hello instant bed hair), they can sometimes be a pain to manage.
Getting your curls on-point can be a mission, and some days the best solution is just to blowdry, straighten or slick it all back.
But enough of that.
This year, it's time to embrace the curls. Let them be free! And what better way to do that than with a fresh haircut to match?
Cue: the curly lob. And JLo looking all kinds of fabulous.
The curly lob is like a traditional long bob where you would cut your hair just below your shoulders, but instead of opting for the sleek, straight look, you emphasise the curls to bring maximum volume to your hair. And if you want to make it a bit more shaggy, you can add a fringe too for some retro vibes.
Plenty of celebrities have already jumped on board, including Jennifer Lopez and Selena Gomez.
To learn exactly how to get the look and maintain it, I spoke with award-winning hairstylist Anthony Nader and he shared every tip to rock this banger hairstyle in 2020.
1. What cut and style should you ask for at the salon?
"To achieve the haircut, it can't be one length. You've got to ask your stylist for some layers so you can create the body of the waves, to create its longevity," says Anthony.
"For the fringe – make sure it's not a solid fridge. A more overgrown than freshly cut fringe is what gives Selena that cool lived-in look straight away."
View this post on Instagram
"Another top trick of mine for this haircut is, when I'm establishing the length, I wouldn't cut in a blunt horizontal line. I would point-cut the length, so it sits soft."
Anthony also explains that the key to maintaining this hairstyle is all to do with how you style it.
"On damp hair, apply your mousse by scrunching it into the hair from roots to end and no need to comb through as you would normally do as you want the texture to look more real and natural.
"Blast dry the hair super quickly – you don't need to be a hairdresser to perform this part. And lastly, to get that wave in the hair I would use a Classic Curved Tong by GHD and wrap just the mid-length around the wand and leave the ends out.
"Finishing off with a sea salt light paste, that will give that textured lived-in appearance so it looks like three-day-old hair straight away rather than freshly washed."
2. What products or tools should you use at home to maintain the style?
Three products Anthony recommends to maintain the look are home are a curling tong, some sea salt pomade and mousse.
3. Why do you think this look is having a resurgence?
"Selena's new-found waves are current and fresh which I know all of my salon clients ask for, and it's a little bit of a French girl vibe," says Anthony.
If you needed any more convincing just to get you over the line, here are four other celebrities working the voluminous 'do.
View this post on Instagram
View this post on Instagram
View this post on Instagram